Message from Lochwood's Director, Alice-Margaret Byerts
---
Activity Sheets
Please find a packet of Activity Sheets below. There is something for everyone included. Do them all or do the ones that interest you. Send them back or bring them back to our next in person lesson. If you have questions, you may always contact us through TeacherZone or email/text.
---
Lochwood Learns: World Music - India
---
Lochwood Talks: Piano Pedals
Listen to "Piano Pedals" and then take the little quiz below.
---
Lochwood Talks: Vocal Health Day 1
Links to resources that Miss Kristina has referenced in todays talk.
---
Lochwood Does: Create Your Own Choreography
Listen to this music and create your own choreography and send us a video back. It doesn't have to be the full song... it can be a verse or just the chorus.
Upload your video to GoogleDrive or Dropbox and send the link to [email protected]
---
Lochwood Learns: Music vs Art
Watch the following video and each day there will be an exercise based on the information in the video.
Resources Used: Museum Masterpieces by Catherine Rollin
Music vs. Art Quiz
Listen to the audio track #1 and #2 and then look at the graphic below which includes three art pieces. Use the quiz form below to answer the questions.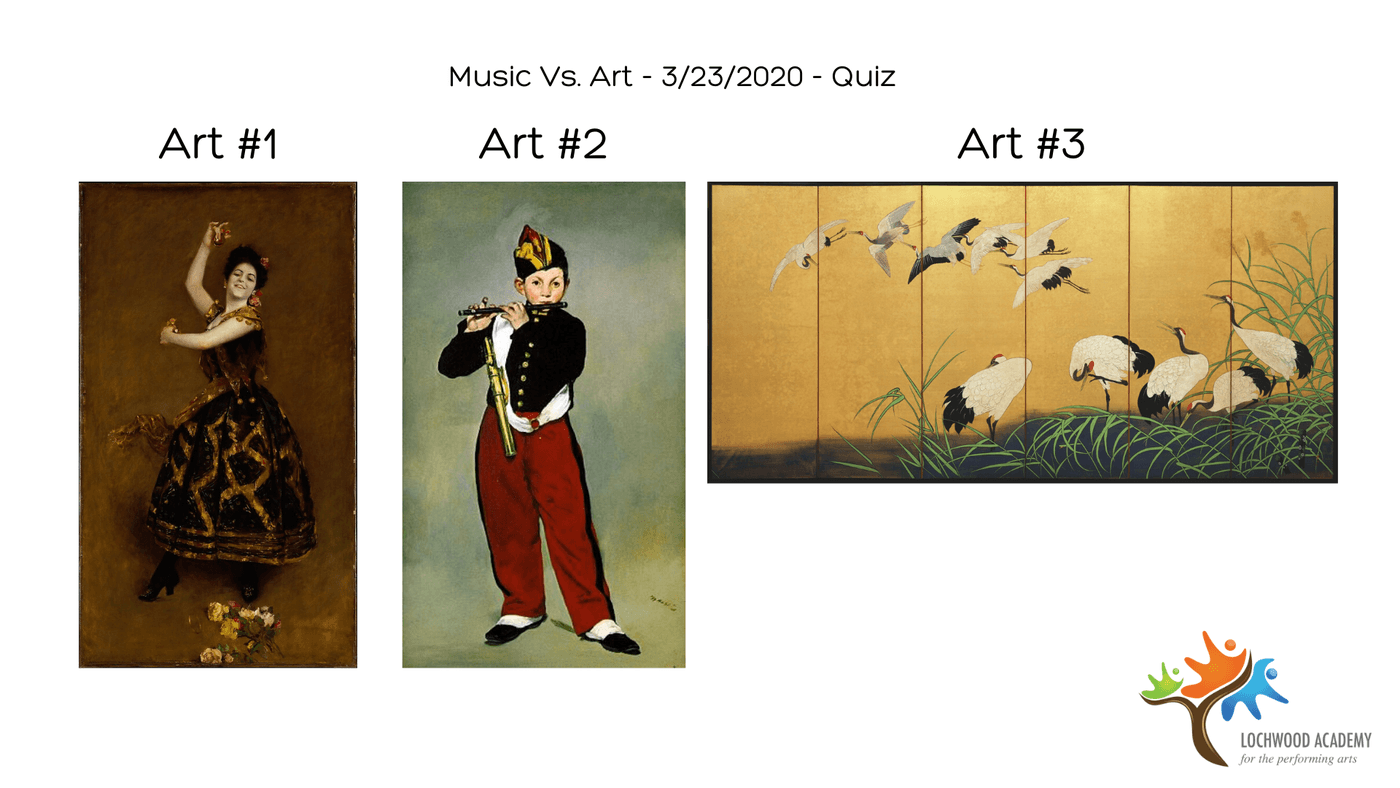 ---
Social Media Highlight!!
Don't forget to send us ([email protected]) video and/or photos of your practicing so that we can highlight you on our social media accounts! Also, don't forget to follow our accounts in general because you never know what activities might show up there!
---
Footnotes:
These resources are for educational purposes only during the Corona Virus weeks that we are closed.
Resources Used:
Piano Teacher's Resource Kit by Karen Harrington
Music Puzzlers by Kellman
Meet the Great Composers by Montgomery & Hinson
RCM Celebrate Theory Level 3, 4, 6
Let's Learn Music by Hascall
The Music Book by Stead
Essentials of Music Theory Teachers Activity Kit by Surmani, Surmani & Manus
Museum Masterpieces by Catherine Rollin
The World At Your Fingertips Book 1 & 2 by Brener & Lau